Reigning Formula E champion Jean-Eric Vergne admitted the Marrakesh E-Prix was the hardest of his career after coming back from being tested negatively for coronavirus a day before making the podium in a race won by his DS TECHEETAH teammate Antonio Felix da Costa.
The Frenchman was absent from track until race day with a fever and was sent to hospital on Friday – tweeting that he was even tested and confirmed negative for coronavirus – before being able to make the track and continue his title defence today.
After qualifying a distant 11th he showed the grit of a champion to fight up to second place and battle BMW i Andretti Motorsport's Max Guenther who also briefly took the lead ahead of Portuguese driver da Costa.
Download the new Independent Premium app
Sharing the full story, not just the headlines
Da Costa admitted after the race that he had gambled on allowing Guenther in front of him to use his slipstream and contain energy – a gamble that paid off perfectly – but the German was able to keep a cool head and secure second place ahead of Vergne.
But with Vergne sharing the 'driver of the day' honours with race winner da Costa and Panasonic Jaguar Racing's Mitch Evans who incredibly climbed from 24th to sixth, the Frenchman admitted he couldn't quite believe his performance.
"It was the hardest race in my entire career here at Formula E," said Vergne who is defending back-to-back ABB FIA Formula E Championship titles. "Despite not being able to take part in Free Practice 1 yesterday, I had been watching everyone.
"I wasn't feeling very well today but the team did an excellent job. During the race I just put my head down and gave my all. When my engineer told me [during the race] I was up in P4 I couldn't believe it.
"At the end I had a good fight with Max but I was sure he was going to overtake me as I couldn't fight with the energy I had left. I tried to defend P2 as much as I could but I knew he was going to pass me. But I am pleased to be back on the podium."
As Championship leader heading into Marrakesh, Evans was looking to build on the most dominant performance of the season in Mexico City but his team miscalculated the start of his qualifying lap, so he was unable to set a time ensuring he started from the back.
The grid got off to a clean start and it was Mercedes-Benz EQ's Nyck de Vries found himself in third early on only to be pulled to the back by a drive-through penalty.
Vergne had been absent from track most of the week – even missing Free Practice 1 – with flu but hit the ground running to move from 11th to third within the first 20 minutes of the race.
Halfway through Guenther took the lead from Da Costa but the German mentioned on team radio his suspicions that the Portuguese had purposely allowed him to pass to move into his slipstream and contain energy – confirmed by Da Costa later.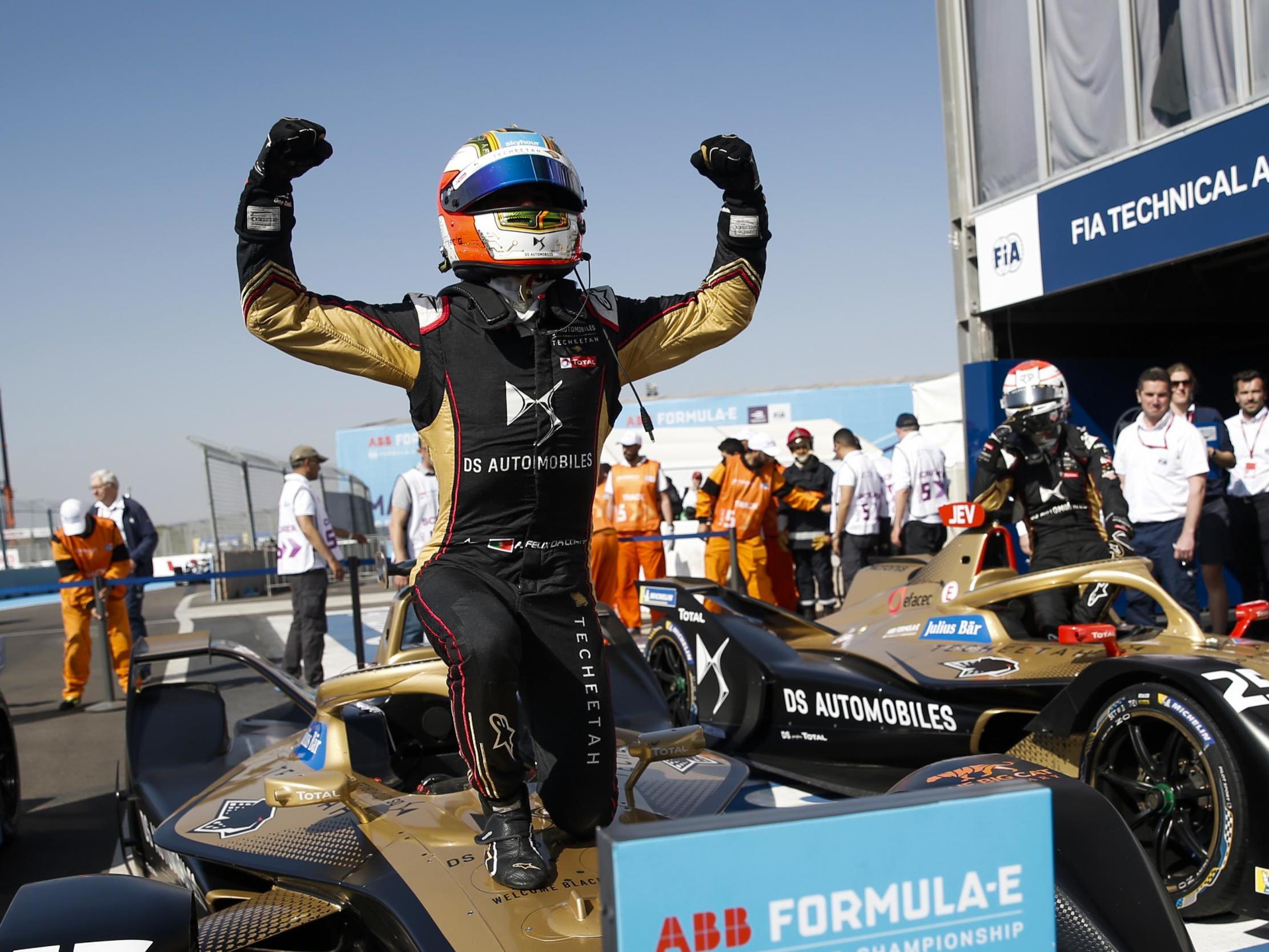 Da Costa did take back his lead after saving energy and activating ATTACK MODE and began opening up a gap which had opened to 11 seconds by the end of the race.
Towards the middle of the pack, Evans had put his qualifying woes behind him to climb up to 11th, just a fraction away from the points with ten minutes to go in the race and the only man of that 11 with an ATTACK MODE left helping him to an eventual sixth place.
Vergne and Guenther's battle for second was the highlight of the closing stages but the German had the last say as he overtook Vergne on the final lap with the Frenchman having less than 0.1% energy remaining as he crossed the line in third place.
The ABB FIA Formula E Championship returns for the Rome E-Prix on April 4 again live on BBC2.
Source: Read Full Article