First as tragicomedy, then as farce. This top-half meeting at Goodison Park began with two terrible goalkeeping errors, then ended in fury over a goal by VAR and a red card for Carlo Ancelotti. And yet, on the balance of this evenly-fought, always-chaotic contest, Everton and Manchester United could have few complaints about sharing the points, leaving both as they were in the chase for a Champions League place.
Dominic Calvert-Lewin thought he had given Everton victory in the dying moments when his shot deflected off Harry Maguire and rolled past David de Gea, all while Gylfi Sigurdsson was sat on the floor in an offside position. Sigurdsson had successfully moved out of the ball's path and referee Chris Kavanagh awarded the goal. VAR disgreed. Stockley Park judged Sigurdsson to be interfering with play.
Ancelotti was sent off after the final whistle for confronting Kavanagh, albeit without breaking his usual composure. It was the first time he has been sent off as a manager. "It will not be the last," he joked, and he was even-handed when attempting to explain what had happened. "If they check the position of Gylfi it's offside but in our opinion, it didn't affect the vision of the goalkeeper. In their opinion it did affect the vision of the goalkeeper."
Download the new Independent Premium app
Sharing the full story, not just the headlines
Even if the Italian was being diplomatic, the decision had enraged a Goodison home crowd that had hoped victory was on the cards as early as the fourth minute. Calvert-Lewin had opened the scoring and maintained his excellent run of form by forcing an increasingly common mistake out of De Gea. But Jordan Pickford is not the most reliable custodian in the country either and was beaten too easily by Bruno Fernandes for United's equaliser.
If not for the late controversy, this would have been mainly remembered as a tale of two goalkeepers with both Pickford and De Gea accused of costing their team-mates three points. But late on, both saved them from defeat. Pickford denied substitute Odion Ighalo brilliantly with something akin to a karate kick, only for De Gea to stop a goal-bound Sigurdsson shot with his boot at the other end.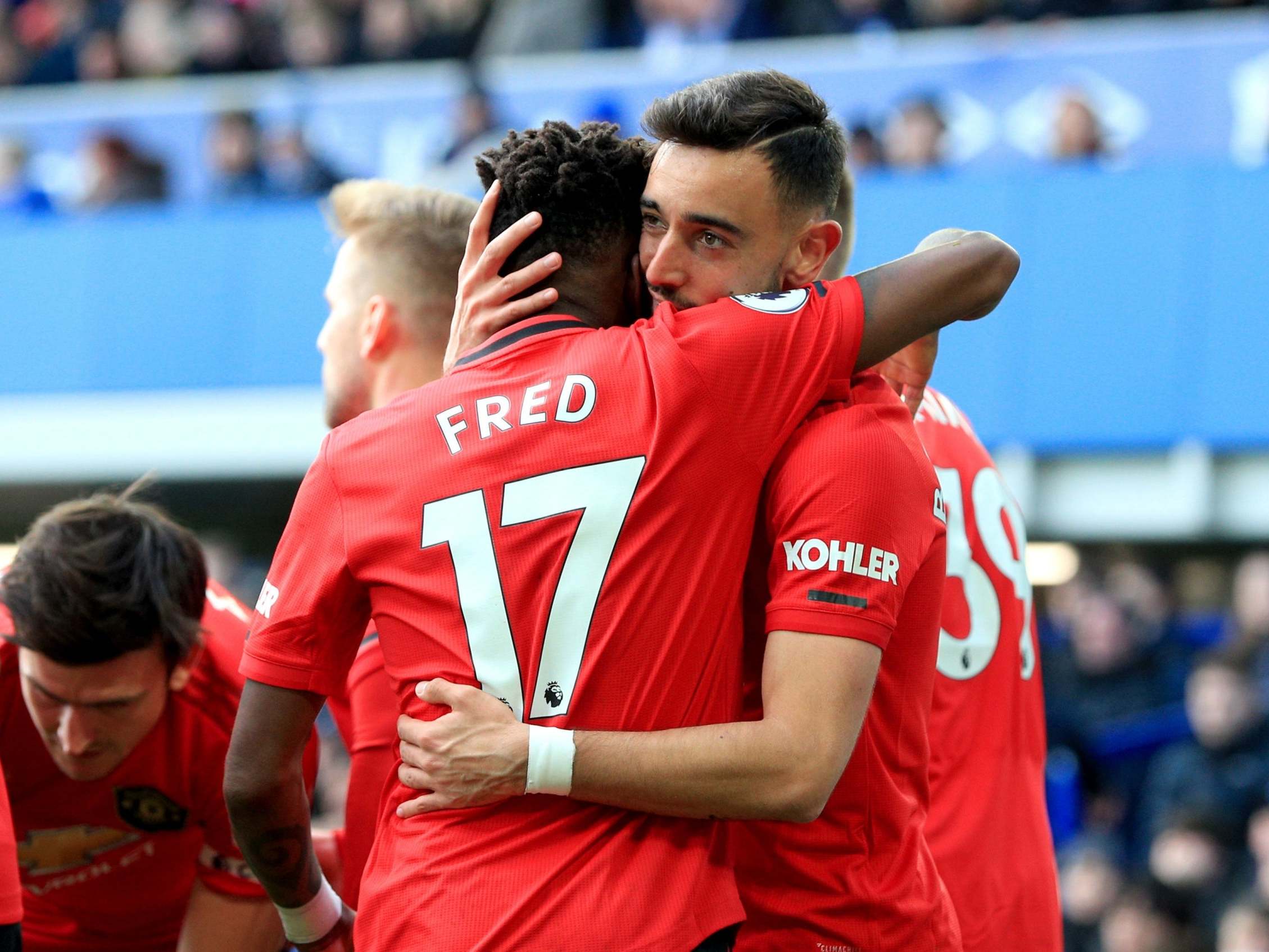 But all in all, this was an excellent day for Dean Henderson. The club and international aspirations of the Sheffield United goalkeeper, on loan from Old Trafford, were helped no end by the errors of his two rivals for United and England's No 1 spots. And with Gareth Southgate watching from the stands here ahead of a squad announcement later this month, Pickford must feel especially under threat.
De Gea's error was marginally the worse of the two, and though the manner of it was freakish, it was consistent with his gradual decline over the past two years. The Spaniard's decision-making is rarely questioned but it was poor and uncertain on this occasion. Harry Maguire's backpass from a free-kick after three minutes was not a complicated one to deal with. It should have been quickly, routinely cleared.
De Gea instead waited, hesitated, and only put his foot through the ball once Calvert-Lewin had charged him down. It cannoned back off the Everton striker's studs with enough force to ripple the netting. De Gea only had himself to blame. Roy Keane, sitting in the Sky Sports studio, reacted with his usual constraint, telling the rest of the panel: "I would have lynched him".
And yet other than that monumental, remarkable and potentially game-changing error, United started well. The "capitulation" that Solskjaer witnessed from his players at Goodison last season, in a dismal 4-0 defeat, did not transpire. Nemanja Matic responded best, hitting the crossbar and asking questions of Pickford's handling with another attempt from distance. It would not be the only time that the Everton goalkeeper, who parried into danger, was found wanting.
Pickford had conceded eight goals from 12 shots on target at the start of the day. That became nine in 13 on the half-hour mark as habitual long-range shooter Fernandes tried his luck from approximately 25 yards out. The ball was travelling low, a little unpredictably but comfortably inside the near post. Pickford dived hopelessly over the top of it and, predictably, appeared to admonish his defence for not closing the shot down.
One goalkeeping rick apiece, there was at least still plenty of time to find a winner, but the closest either side came until the final stages was a Sigurdsson free-kick which struck the post. Despite the breathless tempo of the game, a draw always looked likely until Ighalo's chance from six yards out and those few seconds when Calvert-Lewin believed he had won the game in bizarre fashion. VAR thought differently and, despite all the sound and fury, there was eventually acceptance that a draw was a fair result.
Source: Read Full Article