Rift in the England camp?
You be the judge.
Here's a few lines from Jimmy Anderson's column in the London Telegraph.
The headline reads: 'Don't just blame the bowlers for Ashes failings, we need more help from coaches'.
"We did not bat well enough on a pitch where the data said it was one of the flattest Adelaide surfaces ever produced and the pink ball did the least it has ever done in a day-night game.
"From a bowler's point of view, you want to be hitting the right lengths all the time. We did our best on the first two days to do that… maybe we could have gone a touch fuller at times, but we still created quite a few chances that were not taken."
We have to be better at assessing it during a game. We cannot just go after the game: 'We should have bowled fuller.' If we are bowling too short at lunch we need information back saying we need to push our lengths up. We have to be a bit more proactive at that, too, as a whole group.
"The data is live. We have it in the dressing room. We can run messages out during the innings to say your length needs to go a touch fuller or whatever it might be. It is just communication."
Jimmy Anderson during the Adelaide Test. Credit:Getty
Boland set to debut for Australia
In case you missed the news yesterday, Victorian Scott Boland is set to debut for Australia in the Boxing Day Test, on home soil, alongside fellow quicks Pat Cummins and Mitchell Starc.
Jhye Richardson and Michael Neser have been rested after Adelaide, while Josh Hazlewood is hopeful of being right for the fourth Test in Sydney, which begins on January 5.
Boland has 272 wickets from 79 first-class matches at an average of 26.03.
"Really excited for Scotty, a class player, debuting here on his home ground," Cummins said on Saturday. "Jhye and Nes pulled up a little bit sore after Adelaide, so we've made the decision to bring in Scotty. It's a luxury to have someone like him ready to go. He's fresh, and he's been consistent for so long.
READ DANIEL BRETTIG'S FULL REPORT HERE
Scott Boland will make his Test debut today. Credit:Getty
Roy Ward reports in from the MCG
Would it be Boxing Day morning in Melbourne without thick pale clouds covering the sky and the faintest drops of rain falling?
As I was catching my train at 8.30am, some very slight drops of rain were falling but hopefully they won't disrupt the start of play. The BOM has said there is a 20 per cent chance of rain in Melbourne today so supporters will be keeping their fingers and toes crossed that the two sides can get through a full day of play.
The predicted top temperature is only 20 with clouds and wind expected so should be cool, comfortable playing conditions although if the clouds clear off it will warm up quickly.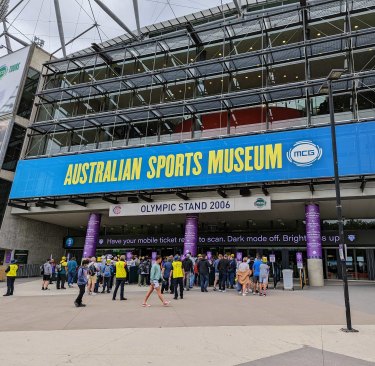 A view from outside the MCG before day one of play. Credit:Roy Ward
Welcome to the Boxing Day blog
Good morning cricket fans,
The greatest day of the cricket calendar is upon us – morning one of the Boxing Day Test.
I hope you had a superb Christmas and saved a few leftovers from yesterday to devour during today's play.
Australia, up 2-0 in the series, are eyeing off a whitewash, while England are desperate to restore some pride after heavy defeats in Brisbane and Adelaide.
We have a number of reporters at the MCG who will bring you all the latest news and analysis.
Stay tuned.
England captain Joe Root is under pressure. Credit:Getty Images
Most Viewed in Sport
Source: Read Full Article